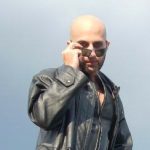 Getting into your head, bringing your sick little fantasies to life – I am The Shadow Priest. You may call Me Sir.
I practice BDSM phone domination and erotic, dominant hypnosis.
I work with people's secret fantasies, fleshing them out and bringing them to life. For Me, it's not the specific content of the fantasy. I enjoy running the show, there's just something about taking control and bringing a person to a place not often visited that makes Me very happy.
An explorer of that part of the human psyche which doesn't lend itself to simple understanding, a part so rarely admitted, much less spoken of.