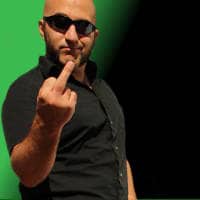 Imagine three voices, dominant men, surrounding you, humiliating you with what a faggot you are, how pathetic a faggot really is. Letting you know what you are, and are not, allowed to do. Eventually taking turns using you, fucking you, because you're just a faggot, and that's what a faggot is there for.
$20.00 Add to cart
The first hypnosis recording I ever made was "Hypnotic Humiliation". Luckily, enough people bought it that I decided to make more.
As I made more, I got better. Studied more techniques. Got more experience humiliating people too, since that's a big part of what I do on the phone when I take live calls.
Compared to My newest work, that first recording is a sad little thing. It's so far beneath what I do these days that it's almost embarrassing. So I've taken it off the market.
And this is the replacement.
Much better technique in the induction, along with binaurals, multiple voice induction, shepard tone, fractionization – all that technical stuff that I've been making steady improvement with.

* All testimonials are taken from feedback on My page at Niteflirt.com: http://www.niteflirt.com/listings/show/8813277-Bringing-your-sick-little-fantasies-to-life–
And then there's the abuse
In the book I'm writing on verbal humiliation, I talk about three different basic perspectives the humiliator can come from – domineering, superior, taunting. Or in other words – I push you around, I remind you that I'm fundamentally better than you, I put you down and laugh at you.
For the faggot humiliation in this hypnosis recording, I use three voices, right, left, and center; corresponding to those three perspectives. It's all Me, but in the three different ways that I approach humiliation.
And that means you're getting abused by three voices ganging up on you. As I explore the various ways in which you, as a faggot, simply are inferior and pathetic, I'm literally beside Myself having fun at your expense.
And then, since we're having so much fun already, we put your ass to the natural purpose a faggot's ass has in this world. A three man on one faggot gangbang.
Lucky, lucky you, we let you get off after that. But not without making fun of you all the while.
Now I understand, after listening to a nearly fifty minute faggot humiliation hypnosis recording, you might find yourself dealing with a bit of an inferiority complex, questioning your basic worth as a human being.
Totally understandable, so here's what I want you to do – just look in a mirror, stand up straight and say "I'm good enough, I'm smart enough, and by golly, people like me!"
Repeat until you can hear Me laughing at you.
$20.00 Add to cart