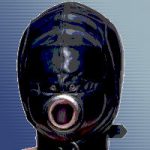 Now faggot, when people talk about the need to treat people with dignity and respect, you do realize that you're not included, don't you?
They're talking about people, not you. You're just a dumb, ugly whore. And you need to be reminded of that.
What better way to give you that reminder than to put you in a hood, fuck you up the ass, then make you fuck yourself on a big dildo while I patiently explain to you how worthless you are, how stupid, how ugly; how you're such a pathetic excuse for a man that you must simply be a woman. A pussygirl.

Consider it a reality check.
In My new recording "Dumb Ugly Whore", I'm just letting you know how it is. Who you are.
Listen with two suction cup dildos handy, one large, one larger.
That's right, you'll actually be fucking yourself on dildos during this scene, all while listening to Me abusing you, because when the Shadow Priest tells you to go fuck yourself, you're gonna go fuck yourself.
Why? Because you're just a Dumb Ugly Whore.
$20.00 Add to cart